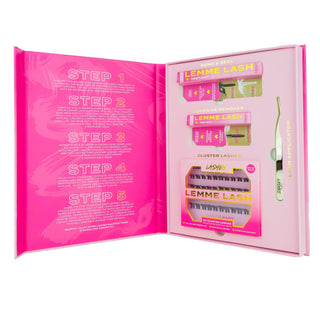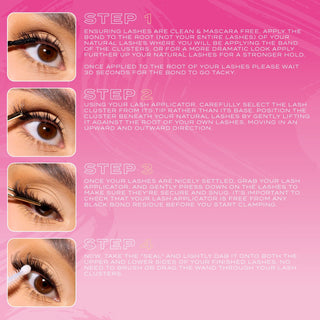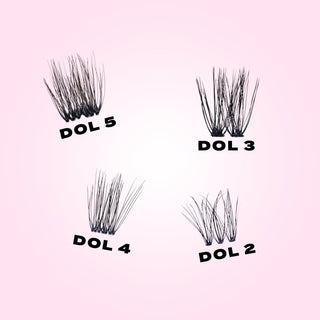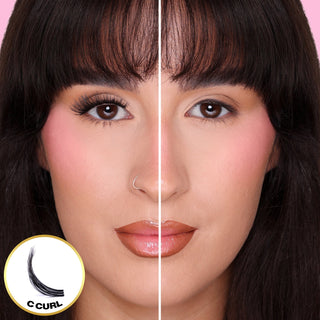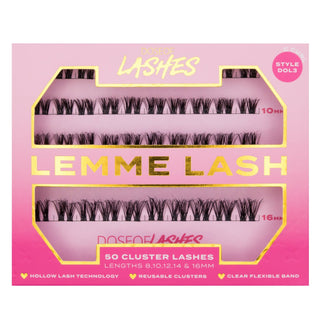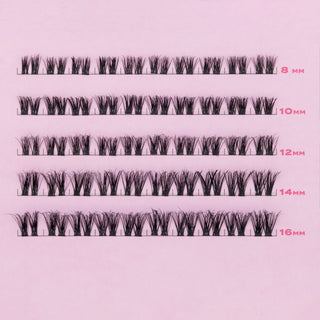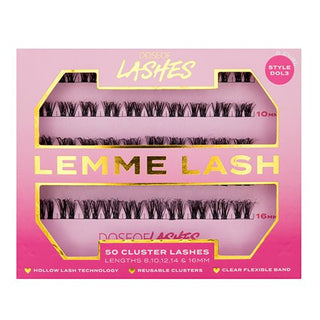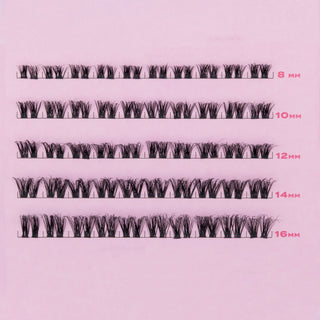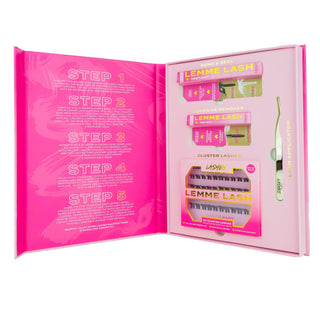 LEMME LASH IN
4 SIMPLE STEPS
Our DIY Clusters last for up to 7+ days! Lemme Lash stays applied even during showers,
workouts and sleep, all without damaging your natural lashes!
What curl should you choose?
We're giving you more control over the way you Lemme Lash by making all of our cluster styles available in both C and D curl, so you can make your perfect set.
Best For
Deep eyes, hooded eyes, monolid eyes, far set of eyes

Best For
Monolid eyes, slightly drooping or narrow eyes, almond eyes, round eyes
Choice of Curl For Each Style
Price per cluster per wear
Weightless Clusters - 70% Lighter
"I can't stress enough how much I love these lashes! I wear them everyday & even have strangers asking me where I get my lashes done. So easy to wear & look amazing. Please never stop making these!"
Patsy C
Loved, really easy to apply as the band is thin, found it best to cut a little bit of each end in order to make them fit but they honestly looked like extensions I usually spend £45+ a month on!
Madeline B
#doseoflashes
First tike trying out these type of lashes and I have to say, they are great. So easy to do will purchase more once these are finished.
Hi Michelle, thanks for sharing your thoughts on the Lemme-Lash Gift Set - DOL3. It means a lot to us! I'm thrilled to hear that you found them easy to use and that you're considering getting more once they run out. Your feedback is valuable, and we're here to help with all your beauty needs. If you ever have any questions or need assistance, feel free to reach out💖💁‍♀️✨
Amazing lashes
Really love the whole idea of this and how easy it is to do at home. I'd say as a tip don't apply a full coat of the lash glue as natural lashes get stuck together and clump up when putting on the fake ones. Wipe the glue off on the container till you have a thin layer to put on, found this so much easier and looked nicer. Did find it a bit hard when removing them to keep them nice and not ruin them when doing so.
I'm in LOVEEEE
I am obsessed with these lemme lash cluster lashes!!! They are so light weight and comfy to wear, it feels like I have nothing on. They are also sooooo easy to apply! I love the set as you have everything you need all together! Let me tell you I'll be buying every style, these are going to have be back having lashes all the time 🫶:skin-tone-3:🫶:skin-tone-3:🫶:skin-tone-3:
So easy to use, salon lashes in less than 25 minutes!